Fluff & Stuff Info & Bear-y Box Craft at Home Instructions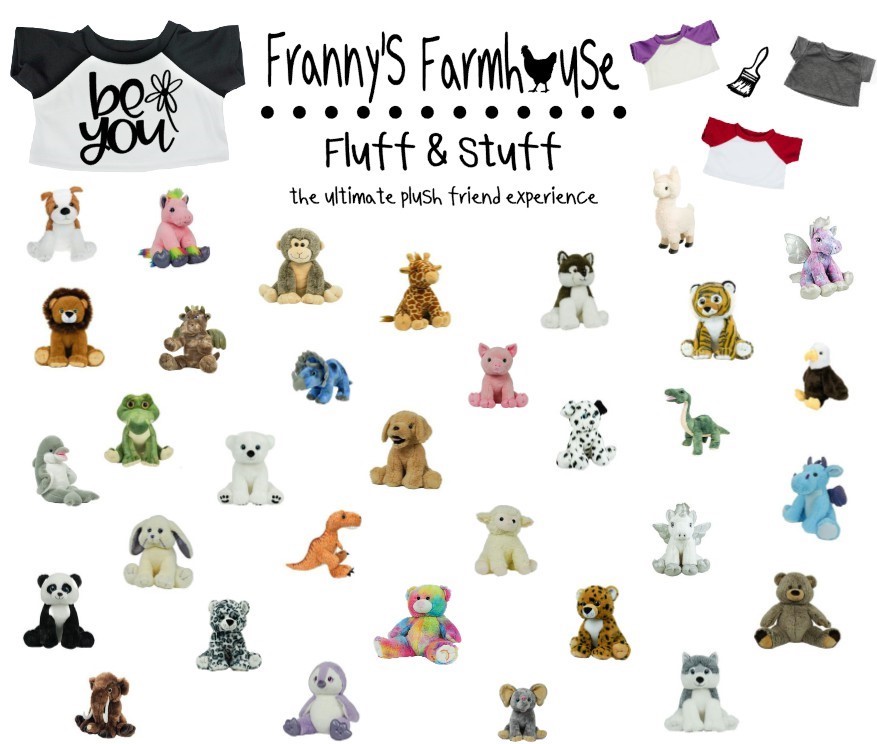 We are so excited for our newest addition to the studio! Franny's Farmhouse Fluff & Stuff is the ultimate plush friend experience.
You will paint a new t-shirt for your plush friend by using a stencil and paint, pick a friend from our huge collection of 16" plush friends, help stuff your new plush friend, add a wish token, fill out a birth certificate and bring your new friend home in a carry home box/bag.
Franny's Fluff & Stuff is open to the public during our normal business hours. No reservations are required.
We also offer our 16" Fluff & Stuff as a party option with use of our private party room. Perfect for birthday parties, scout troops, etc.
Pricelist:
16" Ultimate Plush Friend Experience - $35 (includes 16" plush, stuffing, t-shirt painting, wish token, birth certificate)
8" Mini Plush - $25 (includes 8" plush, stuffing, t-shirt painting, wish token, birth certificate)
16" Outfit - $16-$20
Voice Recorder - $8

Are you creating your plush friend at home? No problem! Follow the instructions on the stuffing package.
For t-shirt painting, follow these simple steps:
1. Use a squeegee on the back side (grid side) of the stencil for about 60 seconds. This allows the stencil to stick to the white transfer tape.
2. Gently lift a corner of the stencil backing (grid side) and peel. It is very important that the blue stencil stays down against the transfer tape.
3. Once the stencil backing has been removed, you can tear it down to the size of the plush t-shirt and tuck it inside the shirt. This step is important so that your paint doesn't bleed through to the back of the shirt.
4. Make sure the t-shirt is flat. Place the stencil sticky side down onto the shirt. Use the squeegee again for about 60 sec. You want your stencil to stick firmly to the shirt.
5. Slowly peel the white transfer tape off. You want to make sure that the blue stencil pieces stick to the shirt.
6. You are now ready to paint. Using the paint and sponge(s) enclosed, dip the sponge into the paint, dab off any excess paint onto a paper plate, and then dab over the blue stencil. Light, powdery coats of paint work best to prevent bleeding under the stencil.
7. Allow your paint to thoroughly dry before removing the stencil and putting the shirt on your plush. Check the inside of the shirt for wet paint.
8. Once dry, its time to dress up your new plush friend!